Armorcoat Safety Films
Bekaert Specialty Films, LLC. offers strong warranty coverage for its line of Armorcoat safety and security films. Commercial property installations are protected for up to 12 years, while private residences are protected for as long as you own your home! Your Armorcoat dealer will provide you with complete warranty details and documentation at the point of your window film purchase.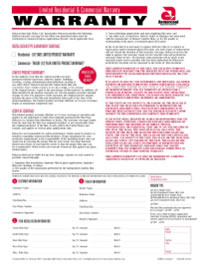 Scope Of Warranty Coverage
Limited residential and commercial warranties are provided and apply to any individual or entity that originally purchased the film from BSF or a window film distributor or dealer. Warranty coverage begins from the date that the film was originally installed, is not transferable from the original purchaser of the film, is only valid in the United States and Canada, and applies to vertical glass applications only.
Bekaert Specialty Films is not responsible for safety performance claims made by dealers or installers regarding any of its window film products. Proper installation for your particular requirements is the responsibility of the installing dealer who can assist you in selecting the proper film for your needs. You must therefore inform your dealer of your specific needs so that the proper film type can be recommended. BSF does not warrant any of its window films against any glass-related injuries.
BSF shall not be liable for any loss, damage, expense or cost caused or partially caused through:
Improper film installation, improper film-to-glass applications, improper film-care or cleaning or abuse;
The quality of the installation performed by the independent window film dealer;
Non-conforming applications and non-complying film uses; and
Any other acts, occurrences, defects, faults or damages not associated with the manufacture of BSF window films, or for the quality or workmanship of the glass, or insulated glass (IG) unit/s.